Freeware
Feature product: Pathways Planner
Our featured product is the Pathways Planner, which is actually a suite of tools that is useful for budget management, time management, setting goals and tracking progress, keeping track of contacts, managing policies and notes, etc. A sample screen shot is shown here: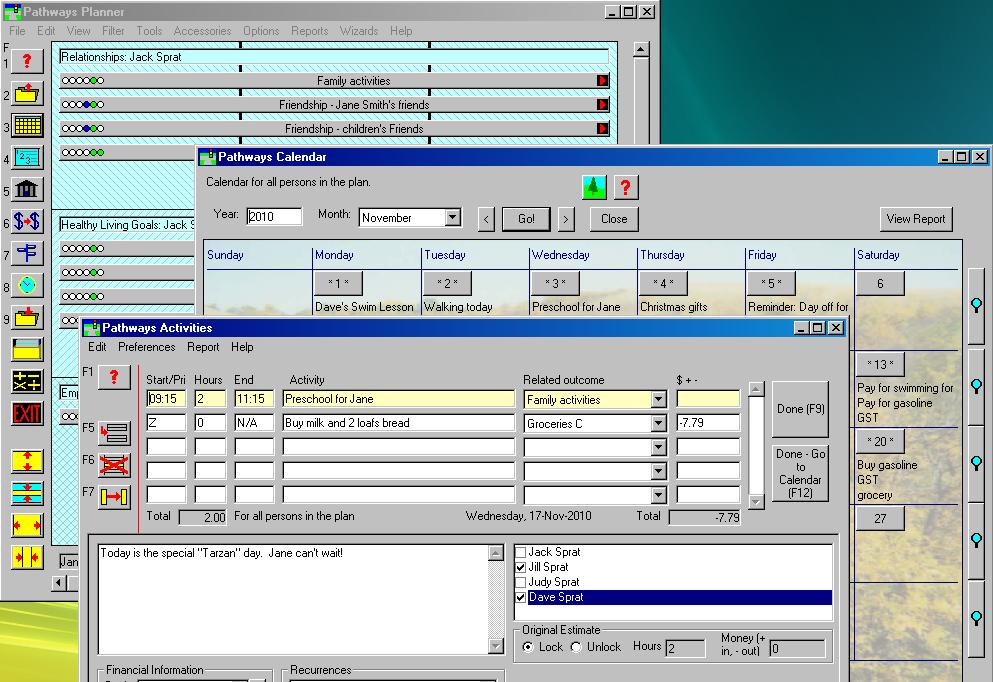 The newest release, Pathways V5.6 is now available.
| | | |
| --- | --- | --- |
| 1 | | Click the icon at left to find out more about Pathways |
| 2 | | Click the icon at left to download the Pathways software. It is available for your FREE use on any Windows personal computer. |
| 3 | | Register your copy. Registration is optional, and there is no registration fee. To register, click the icon at left or click here. |
---
---
New Product: NewWorld Simulation
The NewWorld software simulates the long term effect on populations of various behaviors including various degrees of conservation (or the lack thereof) as well as cheating, warring, peaceful solidarity, and generousity. Click here to find out more or to get a free copy.
---
---
Slideshow Bob
Also available from Freelance Wizards, Slideshow Bob is a simple freeware picture viewer that will play JPEG photos in sequence. It lets you turn your Windows computer or tablet into a Digital Picture Frame. For each photo, it will also play an associated WAV sound file, if present. Slideshow Bob will run without being installed, so you can put it and your photos on a memory stick, to be played on any computer that runs Windows. It is compatible with all versions of Windows from Windows 95 (from 1995) right up to Windows 10 (from 2017/18). To get a free copy, click here.
Handy Links
Links to useful download sites are included in the index at left. Freelance Wizards Inc. also recommends the following software download sites, which have very large collections of software: