Freeware
Feature product: Pathways Planner
Our featured product is the Pathways Planner, which is actually a suite of tools that is useful for budget management, time management, setting goals and tracking progress, keeping track of contacts, managing policies and notes, etc. A sample screen shot is shown here:
What sets this product apart from any other product you will find anywhere, is its thorough support for goal setting and rational decision making. It helps you make the best decisions possible, that will bring benefits to you and those around you, and to follow-through on your chosen course of action.
The down side is that it is complex. We know that because our customers tell us so. But there are also people who have taken the time to do the tutorial, read the instructions, and who have reported great satisfaction with it. So it depends on what you want, and how much effort you're willing to make. Planning a path to a better life is not always easy.
Apart from personal planning, the other most widely used feature of Pathways is money management. If you don't want to set goals that would make your life more fulfilling, just skip that part and dive into setting your budget, tracking costs, and using the bank-reconcilliation and retirement planning features. It uses a very simple method of tracking money: negative nunbers are for money out, and positive numbers are for money in. But to please the accountants of this world, the product will also convert it all to debits and credits and produce standard financial statements.
The newest release, Pathways V5.6 was released in 2019 and is available free for download and personal use.
| | | |
| --- | --- | --- |
| 1 | | Click the icon at left to find out more about Pathways |
| 2 | | Click the icon at left to download the Pathways software. It is available for your FREE use on any Windows personal computer. |
| 3 | | Register your copy. Registration is optional (but appreciated), and there is no registration fee. To register, click the icon at left or click here. For privacy information, click here. |
---
---
New Product: NewWorld Simulation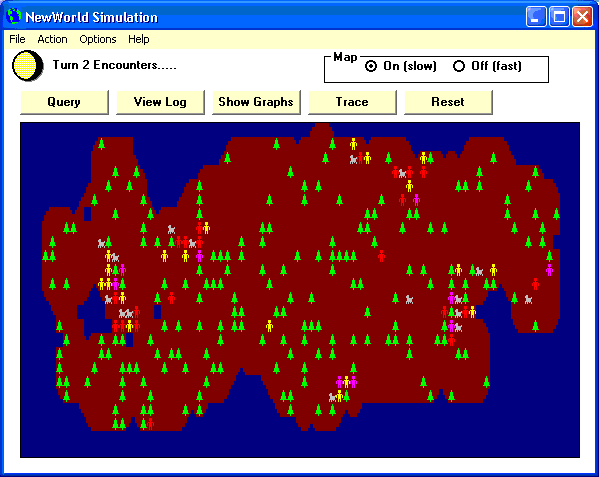 The NewWorld software simulates the long term effect on populations of various behaviors including various degrees of conservation (or the lack thereof) as well as cheating, warring, peaceful solidarity, and generousity. Click here to find out more or to get a free copy.
---
Slideshow Bob
Also available from Freelance Wizards, Slideshow Bob is a simple freeware picture viewer that will play JPEG photos in sequence. It lets you turn your Windows computer or tablet into a Digital Picture Frame. For each photo, it will also play an associated WAV sound file, if present. Slideshow Bob will run without being installed, so you can put it and your photos on a memory stick, to be played on any computer that runs Windows. It is compatible with all versions of Windows from Windows 95 (from 1995) right up to Windows 10 (current version in 2021). To get a free copy, click here.
Also Recommended
With operating system vendors now offering their own app stores, independant download sites have been disappearing. At one time, Freelance Wizards offered thousands of hyperlinks to free software too, but it became impossible to sustain. Now our list is reduced to products that we support and an occassional recommendation. Perhaps the most useful recommendation of all, is for you to check out this independant software download site, still going strong after many years: